In Pan-Asian bistro "Chō" (butterfly) we used the Asian butterfly "Attacus atlas" as the idea of the idea. Its terracotta shade shaped the idea of the inside's coloration palette, and the butterfly's traits will not be straightforwardly interpreted in every ingredient of the inside.
The thought is constructed across the 4 states of a butterfly's life: caterpillar, chrysalis, younger and mature butterflies – that is an impartial life cycle. The cycles are mirrored by the states of supplies: from stone to chrome steel, and from clay to Corten metal. Above the bar there's a suspended undulating construction product of chrome steel, reflecting the flight path of a butterfly frozen instantly.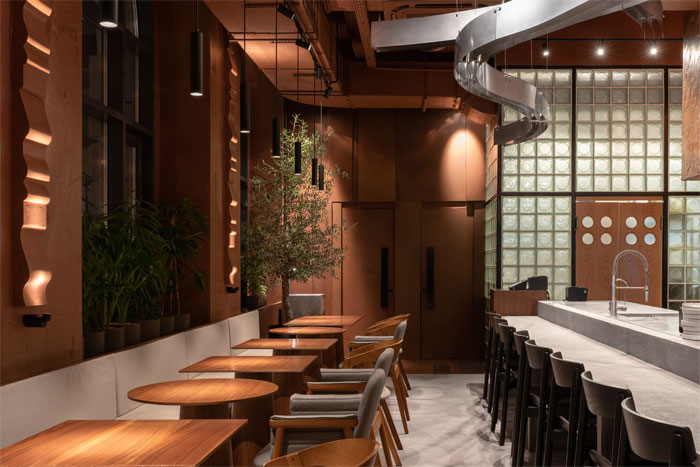 Coming into the restaurant, a small vestibule with a linen curtain doesn't instantly give us a glimpse of the room. The curtain from the open door develops, and we see scraps of the inside by means of the supplies: stone, wooden, and metal. We have to let the visitor start exploring the inside by touching the pure linen. Strolling into the inside, we enter the corten shell as if we had been a mature butterfly ourselves. The shadows of the corten panels shifted relative to 1 one other like a camouflage sample on the wings of an Attacus atlas.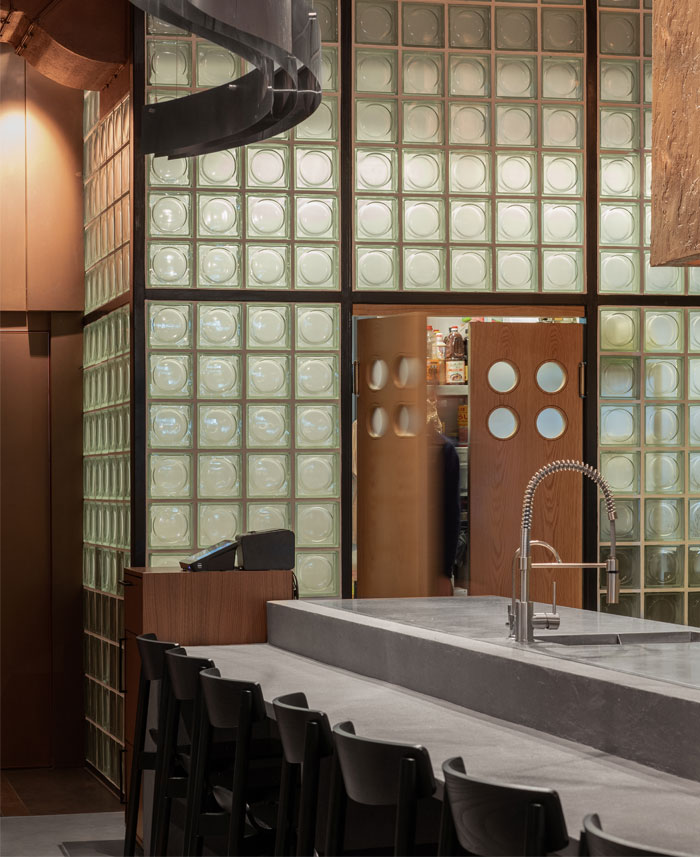 At the back of the room is the intimate space of the restaurant – the house for the restroom. A metal monolithic sink instantly attracts consideration, and in distinction to it, a small mirror descends from the ceiling on a three-meter pipe, repeating the circle sample of glass blocks. On the precise facet of the sink are the doorways to the latrines. Selecting the left door, the customer will discover a spotlight – a mirror with worn amalgam across the perimeter, harking back to particular butterflies with translucent wings.
Functionally, the corridor is constructed round an open kitchen, the place cooks in branded T-shirts cook dinner intently. The remainder of the workers strikes into the closed a part of the kitchen, product of glass blocks, by means of which the shadows of individuals are seen. Diners turn into spectators of the meals being ready, seated in semi-bar seating behind the stone-topped open kitchen. The principle seats go alongside the corridor's perimeter: on the lengthy facet – the eating group alternates with tables of varied shapes, tables product of walnut veneer, and on the brief facet with tables made utilizing the "Kintsugi" approach.
Chō Asian Bistro & Bar by KIDZ Design; Moscow: 74 sq.m; Kidz; Architects: Egor Bogomolov, Catherina Tarasova, Victor Aurov, Valeria Dzhigil, Tatiana Kurochkina; Photograph: Varvara Toplennikova;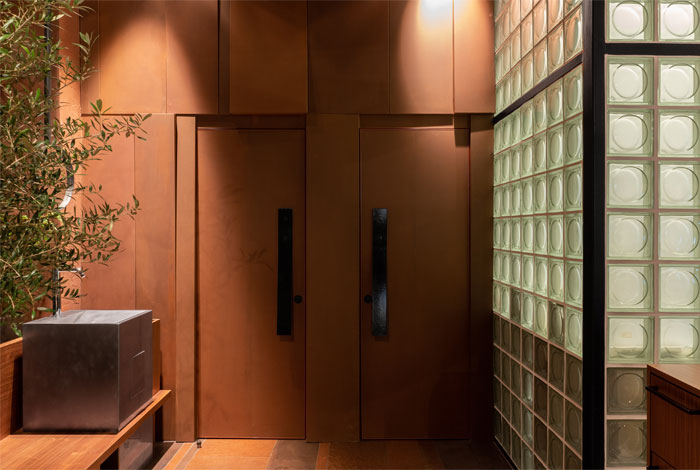 Supply: Inside Zine